Paragon Technologies (PGNT): Deep Value, But I'm Waiting for a Pullback
I bought and sold this deep value play several years back. Taking a second look, shares look tempting, but I'm sitting on the sidelines for now.
Paragon Technologies, Inc. (OTCMKTS: PGNT) is a company I've followed for several years. A few years back, I entered a position for around $1.50 per share, selling out in the past year at a small gain.
Interestingly, I've seen little coverage of this stock among those in the micro-cap/nano-cap blogosphere.
And that's no surprise. In the past decade, the company languished, with shares trading for fire sale prices several times (2014-2015, 2018-early 2019).
Its CEO has tried to turn a sleepy materials handling business into a deep value compounder. But similar to the situation with with Enterprise Diversified (OTCMKTS:SYTE), this effort yielded mixed results.
But now, with one of its units benefitting from pandemic tailwinds, interest in shares has picked up again. The stock now trades at levels not seen in nearly a decade.
Even with the recent run-up, shares remain undervalued. Yet, I'm waiting for shares to pull back before re-entering a position.
A Brief History of Paragon Technologies
Paragon Technologies is the investment vehicle of Hesham Gad. Mr. Gad launched an investment fund in the late 2000s (Gad Partners Funds), with the intent of making "Buffett Partnership"-style investments (deep value, net-nets, "cigar butts").
Circa 2010, Gad Partners began buying shares of PGNT, then made up solely of its SI Systems materials handling business. Based in Easton, PA, SI Systems adopted the sexier "Paragon Technologies" name in 2000.
Between 2010-2012, Gad Partners assumed control of Paragon, with Gad becoming Chairman. Gad's intent was to build a public investment vehicle focused on his Buffett-esque strategy.
At the same time, Gad and Paragon invested heavily in SED International, a distributor of IT products. Similar to Paragon, Gad took control, becoming CEO in late 2013. Unfortunately, SED was a bust; the company filed for bankruptcy in 2016, eventually liquidating most of its operations.
SED's Latin American subsidiary (SED International de Colombia, SAS) survived the collapse. In 2017, Paragon purchased an 80% stake in the company. Paragon paid a fire sale price for the business, recognizing a $4.2m bargain purchase gain from the acquisition.

A Potpourri of Illiquid Assets
Paragon Technologies is the kind of stock value investors love to geek out on. Consisting of several unrelated assets, it's fun to appraise the pieces, and determine the company's underlying value.
As mentioned above, Paragon's two main subsidiaries are SI Systems and SED International de Colombia. In addition to these operating busniness, Paragon holds other key assets:
Ohana Home Services: Paragon established this vehicle to invest in real estate. In 2017 and 2018, Ohana acquired 2 condo units in the Waldolf-Astoria Residences (formerly Mandarin Oriental) "condotel" located in Las Vegas's CityCenter development.

Investment portfolio: In the mid 2010s, Paragon invested extra capital into several publicly-traded securities. Paragon did not acquire a 13-D level position in any of these companies, but it did attempt to rattle cages at Rubicon Technology, Inc. Paragon has pared down this portfolio to just $300,000
Here is a breakdown of Paragon and its components from the prior fiscal year: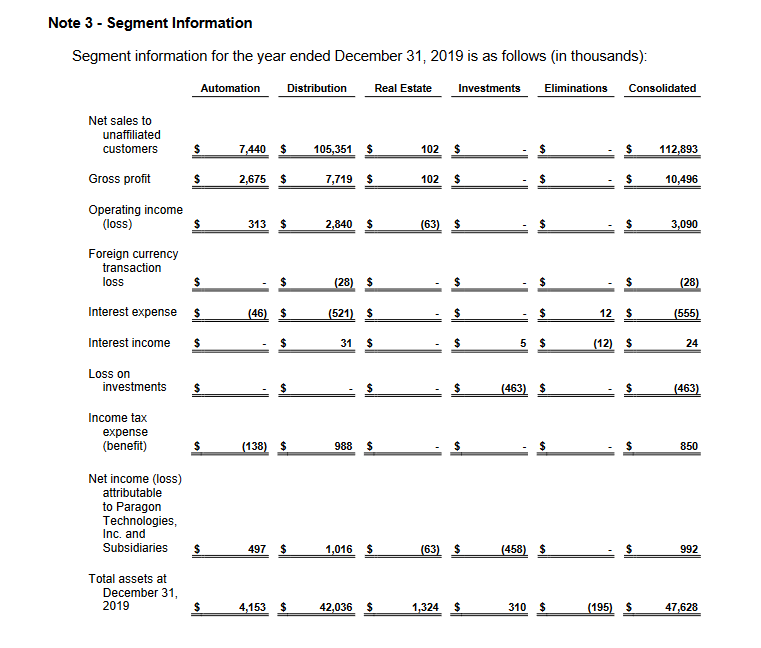 Source: PGNT 2019 Annual Report
SI Systems
SI Systems generated operating profits of $313,000 in 2019, and an estimated EBITDA of ~$440,000 (based on historical depreciation).
But, with the pandemic, this business has benefitted from pandemic-related tailwinds. For the first half of 2020, sales came in at around $5m, up from $3.5m in the first six months of 2019.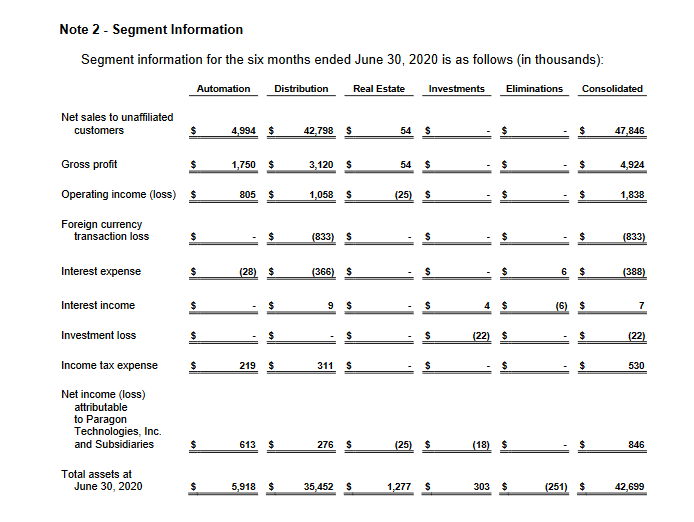 Source: PGNT Q2 2020 Report
With increased revenues, operating earnings skyrocketed to $805,000 for H1 2020.
It's a nice boost from the so-so numbers in 2018 and 2019. And a true reversal of fortune from its performance just a few years prior.
SI Systems experienced heavy losses in 2016 and 2017 due to a prior acquisition that went wrong (Innovative Automation). In FY16, the company wrote off the entire acquistion price (~$1m).
The question now is whether this performance can continue. It remains to be seen whether SI System's growth as of late is a one-time event (lockdowns fueling e-commerce, fueling demand for materials handling systems). Or, if things will revert back to the mean once the pandemic is in the rearview mirror.
So, let's be convervative, and assume this unit breaks even in the second half of 2020. Adding in depreciation of ~$110k/yr, that gives us about $915k in EBITDA for 2020.
Assign that a reasonable multiple (7.5x), and that gives us about $6.9m.
SED International de Colombia
Gad/Paragon's investment in the original SED International may have ended in liquidation, but its stalking horse bid for the remnants produced an unrealized windfall.
Paragon paid just ~$1.4m for 80% SED International de Colombia (SEDC), a fraction of the company's book value. On top of that, Pre-outbreak, SEDC was highly profitable, producing ~$2.84m in operating income in 2019.
But now, post-pandemic? Sales have dipped, and operating income has been hammered by both the sales losses, as well as from a staggering $833,000 foreign currency transaction loss in the first half of 2020.
So, what's SEDC worth "as is" today?
Obtaining Comps for local competitors is tough. Major competitors include Makrocomputo SA and MPS Mayorista Colombia SA (both privately-held).
Given the complexities of this being an overseas IT distributor, and the pandemic wrecking havoc on profits, I'm going to value this based on its book value.
Based on the value applied for the minority interest in SEDC ($1.4m), the implied book value of the business is $7m, giving us a $5.6m value for SEDC.
Granted, I don't think this business could be sold except at a discount to book. Let's discount it 25%, and assess the unit at $4.2m.
Ohana Home Services
As mentioned above, Ohana Home Services owns two units in the Waldorf Astoria Residences of Las Vegas (3750 S. Las Vegas Boulevard). Here are the Clark County, NV property records for both units:
After 6% transaction costs, Paragon would probably get $1.8m in proceeds for both units. But, that's assuming the unit have retained their value. Given the pandemic, and the fact these are condotel units, let's discount them back to Paragon's cost basis ($1.5m).
Parent Company Level Cash/Marketable Securities
Consolidated, Paragon has ~$4.7m in cash. Keeping this valuation conservative, let's assume this cash is tied up in the working capital of SI Systems and SEDC.
The portfolio of marketable securities is worth $300,000. Company debt (outside of SEDC's liablities) is $1.35m, including a $750,000 credit line, PPP loan of $453,000, and an EIDL loan of $150,000.
Putting It All Together
SI Systems: $6.9m

SEDC: $4.2m

Ohana: $1.5m

Investment Portfolio: $0.3m

Parent Company-Level Debt: ($1.35m)
Sum of the Parts: ~$11.5m
With ~1.7m shares outstanding, that's ~$6.80 per share
Based on the last closing price of $3.07/share, this implies PGNT is selling for around 45% of its underlying value.
Catalysts/Risks
Until the recent move higher, PGNT stock has been mainly a value trap. But, what factors at play could help close the gap between trading price and intrinsic value?
Catalysts
Sale of SI Systems and/or SEDC
A sale of one or both of the operating units would unlock tremendous value out of this stock. However, I am doubtful SEDC is a salable business. Unless a Latin American competitor decides to acquire the unit, I'm assuming it'll retain ownership for quite some time.
So, let's focus on SI Systems, the most salable part of the Paragon stable.
With e-commerce and anything related to it (including materials handling) red-hot, Paragon should consider "cashing the check," and unload SI Systems to a private equity or strategic buyer.
Increased Investor Awareness
In 2019, Paragon presented at the Planet Microcap Showcase. As I mentioned earlier, before then the company was barely discussed in the microcap/nano-cap blogosphere.
Increased awareness helped push shares from prior levels (around $1 per share) up to the $2-$3 per share range.
Subsequent IR activities could help push shares further. Even after the recent boost.
CEO Holds Negative Control, But Activism May Be Possible
Mr. Gad controls Paragon, with him and his fund holding ~32%. There are 3 other large shareholders who hold ~27.%. There is little information implying the relationship between these three investors and Gad. None of the three are officers of Paragon.
Based on past annual and quarterly reports (which list all >5% shareholders, all three only became material shareholders in 2018.
Pending further data, it is not established whether these investors will back Gad's long-term strategy, or are open to a new activist.
Mr. Gad can likely defend Paragon with negative control. But I could see an outside investor coming in, buying a 10% or even 20% stake, then collaborating with Gad (keeping him in the Chairman/CEO role) to take PGNT to the next level.
Risks
Liquidity of Holdings
Of the three units, SI Systems seems to be the most salable asset.

With SEDC, Paragon is sitting on a large implied gain, but selling an middle-market overseas subsidiary is easier said than done.

With the pandemic, it may be tough to monetize the Vegas condotel units for quite some time.
Paragon Needs Scale
Paragon is an interesting treasure trove of investments, but where's the strategy? Is Paragon looking to sell SI Systems? Will they pursue additional bulking up of SEDC? Are the condo investments a sign of future real estate speculation?

If it were to unload a major holding, what would be the next step? Paragon's capital base limits its field of opportunities. Perhaps rights offerings, like those seen with Enterprise Diversified and HG Holdings (OTCMKTS:STLY), can scale Paragon into a more viable investment vehicle.
Jurisdictional/Business Risks of SEDC
SEDC is in a highly competitive industry in an economy (Colombia) that ranks 65 out of 190 in ease of doing business.

On the other hand, reality may be rosier than negative perceptions. Colombia has a free-trade agreement with the United States, and encourages Foreign Direct Investment.
Liquidity of Shares
PGNT is highly illiquid. The purchase of just a few thousand shares can dramatically move the stock. Any looking to put real money into this will either have to take their time, or else risk pushing shares up to $4 or even $5 per share.

Bid/ask as of 9/2/20 was $2.97/$3.07
Bottom Line: Paragon Technologies is an Interesting Opportunity, But I'm Waiting For Another Pullback
PGNT is an under-the-radar nano-cap stock that has recently gotten some love thanks to pandemic tailwinds helping its materials handling business

Yet, shares continue to trade for less than half of their underlying value

There's good reason for this, including risky holdings (SEDC, Vegas condotels), as well as the lack of a compelling long-term strategy.

SI Systems is riding the "new normal" boom in e-commerce. Now could be time to unload the unit to a middle market private equity firm/strategic buyer

Negative control by Mr. Gad makes activism a challenge. But, I could see how a third-party activist buying a position, then collaborating with Gad, could produce a profitable outcome

Liquidity of shares is a challenge. Building a large position may push shares higher, eliminating much of the discount

In short, PGNT stock may be a great opportunity for those building a Schloss-esque basket of deep value stocks. A private investor or small fund could find opportunity in this name as an activist target

I'm not re-entering a position right now, but may dive in again if shares dip back to the $2.00-$2.50 per share price level
DISCLOSURE: As of Publication, The author (Thomas Niel) had no position in any of the aforementioned securities.
DISCLAIMER: I wrote this article myself, and it expresses my own opinions. I am not receiving compensation from PGNT or any other entity for writing this article. I have no business relationship with PGNT, or any other company referenced.This article is for informational purposes only, and should not be construed as investment advice. Please consult your financial advisor before making any investment decision. PGNT is an iliquid stock with low trading volume and a market cap of less than $5m. Please be aware of the risks associated with this stock. Do you own due diligence, and caveat emptor.