Sportech PLC (LON:SPO): UK-Based Gaming Company, With Long-Shot Sports Betting Catalyst in USA
A few years back, risk/return wasn't in your favor. But, with COVID-related sell-off, shares may be worth it as an "underdog"
Sportech is a UK-domiciled gaming company, with its operations primarily in the U.S. state of Connecticut.

The company's main business (betting terminals and OTBs serving the horse racing industry) isn't the play here. It's the company's chances of obtaining a Connecticut sportsbook license.

If the company wins out, and obtains the license, shares could be worth double where they trade today. And that's based on conservative projected handle.

While the primary catalysts, there are other ways Sportech could realize underlying value.

Given the competition (Tribal gaming) potentially locking them out, there's a high risk shares crater, even after their big decline on the heels of COVID-19.

Shares have rallied, likely due to Caesars Entertainment's recent deal to acquire William Hill.

Tread carefully at today's prices, but consider this "underdog" a solid opportunity on any major pullback.
Sportech PLC (LON:SPO, OTCMKTS:SPOZF) is a lesser-known gaming name I've followed for several years. Starting off as a UK-based operator of football (soccer) pools and tote services (horse racing), the company shifted its focus to the U.S. market, via its purchase of Scientific Games' Autotote (horse wagering terminals) and Connecticut OTB (simulcast wagering on horse racing) businesses about a decade ago.

Sportech PLC (SPO.L Stock) | Source: Sportech PLC
The in-person OTB/simulcast business is on the decline. From my personal experience going to race tracks featuring simulcast, this isn't a popular venue among those under the age of 60. But the story here is not cigar chomping pensioners playing trifectas, it's about sports wagering.
Since the 2018 Supreme Court decision, U.S. states from coast-to-coast have legalized sports betting. Namely, states like New Jersey. Other Northeastern states, like Rhode Island, have legalized sportsbooks as well.
But Connecticut, and neighboring New York, are still hammering out their legal sportsbook regimes. While not a major state, Connecticut would like have a healthy sports betting market.
The issue? Will Sportech's chain of OTBs have the ability to tap into the market? Or will the state's Native American casino interests get the concession? This is why it's been two years, and the Nutmeg state has passed a sports betting bill.
As a result, excitement over this sleepy company's shares has diminished. Add in the COVID-19 headwinds, and the stock trades at a fraction of where it was just a few years back.
And, even though shares have bounced back significantly in the past month, there may still be opportunity here. Granted, it's no slam dunk. But, as a "lottery ticket," shares may be worthwhile at today's prices (around 17p), and below.
Background
Back in 2019, Seeking Alpha commentator Josh Burwick did a deep dive on the company. For more background on the company and its sportsbook catalyst, I recommend checking out his article.
Burwick detailed Sportech's existing business, and how said infrastructure could benefit it in the future.
The first operating unit, the former Autotote, manufactures and services betting terminals at race tracks and OTBs across the globe. These machines, which help facilitate parimutuel wagering, could also be used as sports wagering kiosks.
The second unit, called Venues in financial statements, owns/operates the OTBs in Connecticut. Most of these venues are under the brand name "Winners OTB." But, in recent years, the company has opened more upscale sports bar/OTBs under the "Bobby V's" brand.
These upgraded locations are ready for sports betting. If and when Connecticut finally legalizes sportsbook operations.
While biding its time, the company previously managed to eke out a small amount of operating earnings from both businesses. But, with COVID-19 severely affecting things earlier this year, this tiny profit swung to a loss.
COVID-19's Impact on Operations
As a UK-domiciled company, Sportech releases bi-annual and annual results. As seen from the interim results released earlier this month, one can see the pandemic's damage on the top and bottom lines: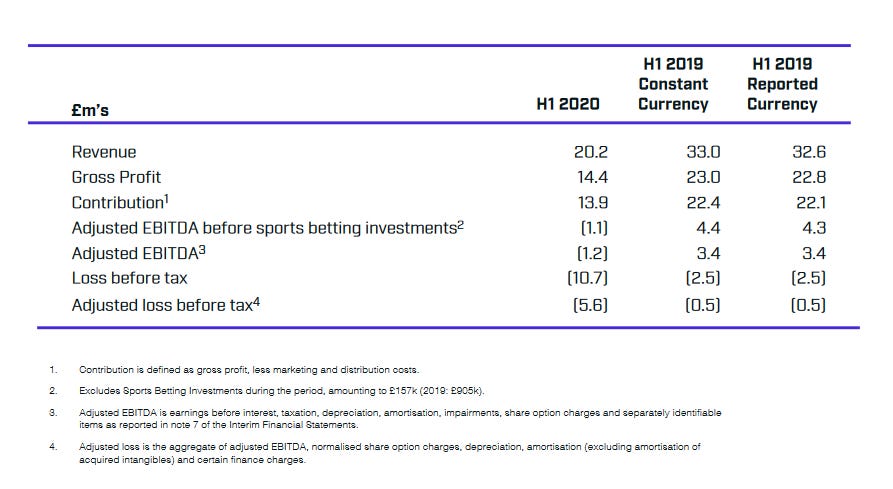 Sportech Results for Six Months Ending Jun 30 | Source: Sportech 2020 Interims Presentation
Converted to USD, that's a sales decline from $42.7m down to $26.1m. Adjusted EBITDA tumbled from ~$4.4m, to a loss of $1.6m.
Here's a Breakdown of Revenue by Source: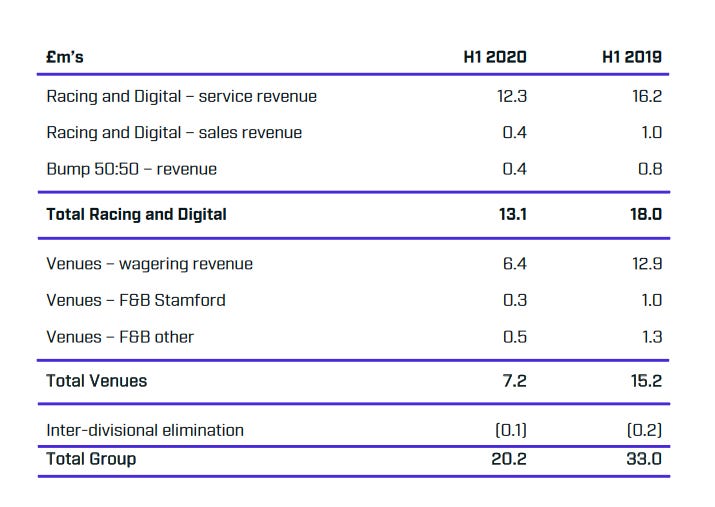 Source: Sportech 2020 Interims Presentation
That's a not-so-slight decline for the Racing & Digital (B2B) end, and a big decline for the company's Venues unit (Connecticut OTBs).
Here's divisional EBITDA: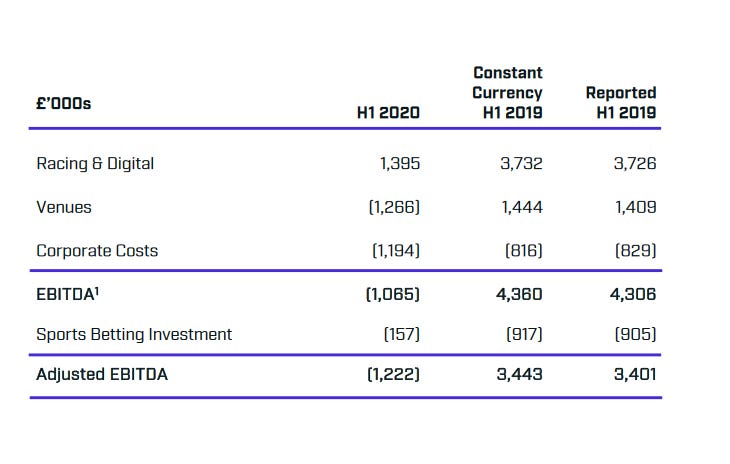 Source: Sportech 2020 Interims Presentation
The company re-opened 6 of its 12 facilities back in July. Even with social distancing restrictions, as seen from the strong results out of the gaming industry in general, the company should be able to get a close to normal as possible.
But again, the story here is not a rebound in the OTB operations. It's whether the company can beat out Native American gaming interests, and obtain a sportsbook license.
Connecticut Sports Betting Would Move The Needle (But Not By Much)
Further below, I'll detail the company's odds of getting a sportsbook concession. But first, let's assess how much Sportech can make from sports wagering.
Taking a look at sports betting handles in states fully taking action, let's try to handicap handle and hold (net revenue after winners are paid).
Connecticut has a population of ~3.6m. This is similar to Mississippi, which currently has legal sports betting. But, given the geographic/demographic differences, comparing CT's potential action to other northeastern U.S. states makes more sense.
In the NE, we have New Jersey and Rhode Island having legal sports betting. New Jersey, the most developed of the three, has handle on par with legacy gaming state Nevada. So, trying to pro-rate its 2019 handle (around $4.6 billion) doesn't make much sense either.
This may mean Rhode Island is the most relevant comp. Rhode Island's gaming action is likely aided by its proximity to Massachusetts.
But, given that New York has yet to start legal sportsbook, neighboring CT would likely yield the game benefit (perhaps a greater benefit).
RI (pop 1m), had $237.4m in handle in 2019, with a hold of $17m (around 7.1%).
So, let's adjust those numbers to CT's size (3.5x), and we get around $854.6m in handle, and around $61.2m in hold (revenue).
This is much lower than the projected handle Berwick provided in his Seeking Alpha write-up. Adjusting his handle estimates using GDP per capita (relative to NJ) rather than population, he saw CT having as high as $2 billion in annualized handle.
I believe my numbers provide a conservative estimate of how much Sportech could yield from sports betting legalization. And, even with my muted projections, it may still help move shares significantly higher than where they trade today.
Getting back to our calculations, how much can this company make from sports betting?
Obviously, Sportech isn't getting 100% market share. With Tribal gaming's influence in the state, chances are they'll get a small piece of this business.
Let's call it 25%. Based on our estimated $61.2m hold, that's $15.3m in revenue. Now, let's take out Connecticut's take. Based on the latest bills, CT wants 10% on in-person wagers, and 14.75% on online wagers.
Let's split this 80/20, with the lion's share being online (based on Jersey stats). This could be more like 90/10, given New Jersey's bricks-and-mortar locales include places like Casinos and Racetracks, destination venues as opposed to Sportech's OTBs.
So, that's $300,000 in taxes on $3m in bricks & mortar action, and $1.8m on the ~$12m in online action. Total taxes of $2.1m
That leaves us with $13.2m in net revenue
But, Sportech will likely farm out operations to a third-party bookmaker, like William Hill.
As an example, William Hill splits revenue 50/50 with its bricks-and-mortar partner, Monmouth Park in NJ.
So, that's $6.6m to the top line for Sportech. Of course, that's before operating costs. Yet, given the existing infrastructure, which is likely being underutilized, we'll assume margins on this amount to be 70% (Sportech's 2019 gross margins).
In short, an extra $4.6m. Yet, due to a profit sharing deal entered years back with the owners of one of the OTB sites it operates (more below), this extra profit could be as little as $2.3m.
Not a whole lot to move the needle. But, again I am using conservative numbers for the company's sportsbooks upside.
Add in the specter of Sportech's legacy business returning to past profitability levels, and the company's bottom line could see big changes in the years following the pandemic.
So, what does this mean for valuation? Let's run the numbers, and see how much Sportech could be worth if it all works out.
What's Sportech Worth If The Chips Fall Into Place?
In the years preceding the pandemic, the company generated ~$3m-$3.8m in EBITDA (per Seeking Alpha).
Add in the $2.3m that would potentially fall to the bottom line (possibly less, more below), and that could mean ~$6m in annual EBITDA if this name finishes in the money.
Sure, it's a less dramatic reversal in fortune than analysts estimated a few years back. But, applying a reasonable multiple, and we get a valuation far above today's prices.
So, what's an appropriate multiple? Running comps is tough, given that companies in the sports betting space are in bubble mode right now. Even legacy bookmakers like William Hill (OTCMKTS:WIMHY) have gone parabolic, thanks to a recent takeover bid from Caesears Entertainment (NASDSAQ:CZR).
One of the more conservatively valued sportsbook names, 888 Holdings, currently sports an EBITDA multiple around 12x.
While this number sounds frothy, it may be reasonable. If Sportech gets a sportsbook license in Connecticut, chances are a major operator could scoop them up in order to enter the state.
Caesars, MGM (NYSE:MGM), Penn National (NASDAQ:PENN), and Flutter Entertainment (OTCMKTS:PDYPY) are all trying to dominate the American sportsbook scene. Capturing share in this state, adjacent to major sportsbook markets, may be something of interest.
Okay, so what's Sportech's maximum value? At 12x our potential EBITDA of ~$8m, that's ~$72m enterprise value.
What about debt? The company has zero debt, but $5.6m in capital leases, and $1.4m in pension liabilities. I'll exclude the capital leases, but back out the pension obligations.
How about cash? There's about $16m in cash, per the latest financials. Add back in the cash, and that gives us an EV of ~$88m.
So, $88m, minus the $1.4m in pension obligations, gives us around $86.6m. To account for this being a primarily UK-listed company, let's convert that to pounds: £67m based on today's spot price for GDP.
Based on 188.75m outstanding shares, that gives us a valuation of ~35p per share, about double recent trading prices. And that's after shares moved significantly last month, on the heels of the Caesars-William Hill tie-up.
For those trading the OTC-listed ADR, our $86.6m valuation converts to around 45 cents per share, not quite double the recent OTC trading price (25 cents per share), but close.
Sure, even ~100% upside may not be worth the high risk associated with this play. But, keep in mind my back-of-the-envelope calculations are conservative. If Connecticut gives Sportech a license, and wagering handle gets up to Berwick's estimates, upside would be much more significant.
In addition, there are other ways Sportech can maximize its value.
Additional Ways The Company Could Move The Needle
Besides the sportsbook catalyst, there are two ways Sportech could realize underlying value:
Taking a look at the balance sheet, the company has £15.2m ($19.7m) in PP&E.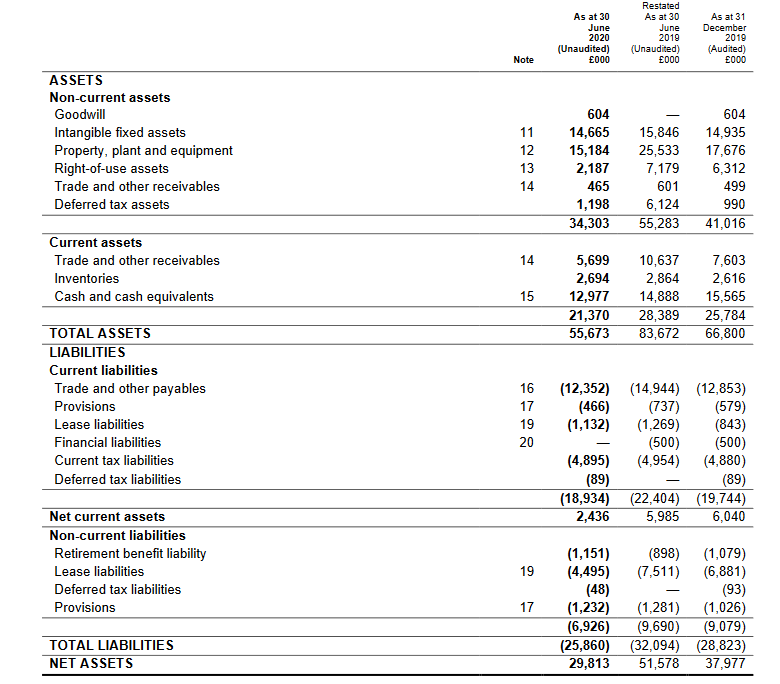 Source: Sportech Interim Results Statement H12020
The company owns the underlying real estate for several of its sportsbooks. The main one of interest is the company's New Haven, CT "Sports Haven" facility.
Built during the heyday of OTBs, this property has been called a "white elephant." Yet, there's much potential value in redeveloping the 9-acre site.
The company tried to sell this property in 2019. Here is the now-dormant Loopnet listing. Per tax records, Sportech stills own the property (appraised at ~$8m)
COVID-19 has likely killed near-term chances of selling this real estate. Yet, the value of this "hidden asset" could eventually be realized, helping to fuel additional upside.
A second way Sportech could improve its financials is by merging with another UK-based horse wagering company.
Like Sportech, Webis Holdings PLC (LSE: WEB.L) is UK-domiciled, but heavily involved in the U.S. parimutuel wagering scene.
It's main business, Watchandwager.com, is an "also-ran" ADW (advanced deposit wagering), or online horse betting site. Major competitors include TVG (owned by Flutter Entertainment), as well as Churchill Downs (NASDAQ:CHDN) owned Twinspires.
Webis is unprofitable, but with a market cap under £5m, Sportech could acquire this business, even at a premium, and easily make it an accretive deal.
Why? Webis' £5.3m in annual overhead eats up profits, and then some. But, by consolidating operations, the company would probably eliminate most, if not all, of this overhead.
Again, this alone doesn't make the bull case. But a Sportech-Webis tie-up is something both companies should consider in the future.
Is Sports Betting in CT Close Enough on The Horizon?
What's the latest on Sportsbooks in Connecticut? It's still a work a progress. The big issue here is that the Native American tribes (Mohegan and Mashantucket Pequot) that own the major casinos in the state (Mohegan Sun and Foxwoods, respectively) get the full concesssion, locking out Sportech.
But, as LegalSportsReport wrote earlier this year, Connecticut's governor supports an "inclusive approach." That is to say, all gaming stakeholders (the tribes, Connecticut's lottery system, and Sportech) each getting a piece of the action.
The tribes believe that their casino exclusivity (via a compact signed with CT decades ago) extends to sports betting. Both have threatened to sue the state, and withhold $250 million in annual revenue sharing payments, if other players are eligible to obtain sportsbook licenses.
In short, the jury's still out. Will Connecticut, in a financial mess, capitulate, giving the tribes exclusivity? Or, will Sportech win out, and get a small share of the pie?
The fight could continue for several years more. With this in mind, even the heavy discount to potential value may not be enough.
An investment today could remain "dead money" for years to come. Or worse, the stock craters, in the event the well-funded and politically-connected tribes muscle out Sportech.
Limits to The Bull Case
Tribal Gaming May Hold All The Cards
Native American tribes, thanks to their first mover advantage in gaming, have significant financial resources and political capital, to protect their gaming concessions.
For example, in Minnesota, Native American tribes basically have gaming on lock. As I discussed earlier this year in a write-up on Canterbury Park (NASDAQ:CPHC), the financial and political influence of Tribal gaming in that state limits how much that company, owners of a race track and card room, can expand their gambling business.
As seen from the years-long fight highlighted above, the same could happen here in Connecticut.
If the tribes win out, the case for Sportech is destroyed. Shares will likely fall much lower. And, while a temping "cigar butt" opportunity, there's little for most investors to get excited about.
Profit Sharing Deal
In his write-up, Berwick discussed a profit sharing deal the company has with a third-party. Years back, Sportech predecessor took over operations at the former jai alai fronton and dog track, which today operates as a simulcast facility.
But, as part of the deal, the former operator (and owners of the physical property), Shoreline Star/Bridgeport Jai Alai Associates, gets 50% of the company's sportsbook profits. Over time, this profit sharing declines (40% years 5-10, 30% years 10-25). But, it would impact the company's potential upside from this primary catalyst.
Perhaps the company could minimize this by simply acquiring the Shoreline Star entity. Again, this would dilute upside, but may limit the damage.
Far From a "Lock," But Could be a Worthwhile "Underdog" at Today's Prices
In the weeks since I entered a position (around 14p), shares have rallied, likely on the heels of the William Hill deal.
And, while there's still significant upside on the table, given the company's odds of getting the sportsbook concession aren't exactly a "lock," it may pay to tread carefully into this name.
But, if we see another pullback, consider underdog Sportech stock a solid opportunity.
DISCLOSURE: As of Publication, The author (Thomas Niel) held long positions in SPO.L and CPHC stock.
DISCLAIMER: I wrote this article myself, and it expresses my own opinions. I am not receiving compensation from Sportech PLC, or any other entity for writing this article. I have no business relationship with Sportech, PLC, or any other company referenced. This article is for informational purposes only, and should not be construed as investment advice. Please consult your financial advisor before making any investment decision. SPO.L/SPOZF is an iliquid stock with low trading volume. Please be aware of the risks associated with this stock. Do you own due diligence, and caveat emptor.